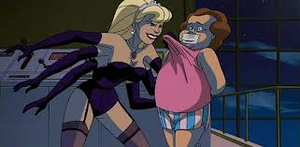 A villainess who was formally a genetic physicist at the Institute of Genetics and is the owner of a home-shopping network. She sells products like purses that are actually made from the hides of genetically-altered animals. She has gained two lower pairs of additional arms from her previous work at the Institute of Genetics, of which she has full dexterous control over.
Ad blocker interference detected!
Wikia is a free-to-use site that makes money from advertising. We have a modified experience for viewers using ad blockers

Wikia is not accessible if you've made further modifications. Remove the custom ad blocker rule(s) and the page will load as expected.